Stephen Inglis
Stephen Inglis has been a researcher, curator, and then Director-General of Research and Collections at the Canadian Museum of Civilization. His contributions to museums and Indian studies have been honoured by the Canadian Museums Association, the Shastri Indio-Canadian Institute and the Government of India. He earned a PhD in anthropology at UBC based on fieldwork with artisans in India and is currently an Adjunct Research Professor and Instructor of Art History at Carleton University.
Upcoming Tours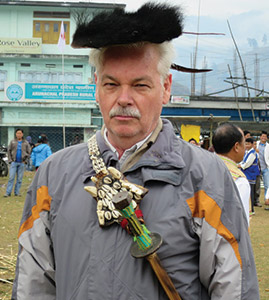 Current Projects
Teaching and helping develop the new Curatorial Studies programme at Carleton University in Ottawa. As well, teaching the Art of India and Arts of Asia in Carleton's Art History department. I am also currently working on two books about the sacred work of potters in India and on the role of craft traditions in the definitions of post-independent South Asia.
Memorable Moment
Encountering by chance a major festival procession in the Tamilnadu temple town of Kumbakonam. The travellers I was with melted into the stream of chariots carrying bronze images from the temple, priests, specialists of various kinds, and worshippers and for a few kilometers, became part of the spectacle.