Jordan
THE LAND OF MILK & HONEY
This is "the land of milk and honey" according to the Bible – a deeply moving place where the remains of many ancient civilizations persist. Perhaps the nation's greatest marvel is "the rose red city half as old as time" – Petra. This spell-binding city was carved into the rose-red cliffs by the Nabataeans who settled here more than 2000 years ago. There are also extensive Roman ruins at Jerash and Pella and the remains of myriad Byzantine churches dotting the hills and valleys around Amman. Other Biblical sites include Mt. Nebo and Bethany. Islamic art can be found in the forts and desert retreats of the Umayyad dynasty. The castles of the Crusaders and their Arab opponents are some of the most impressive examples of military architecture in the world. The land made famous partly through the wanderings of Lawrence of Arabia in the 1962 film has also been described as particularly rich in wildlife. Unique mammals include the White Oryx of open plains and the Mountain Ibex of mountainous terrain. Jordan also hosts migratory sea and shorebirds as they move from the Mediterranean Sea in the north to the Red Sea and beyond in the south.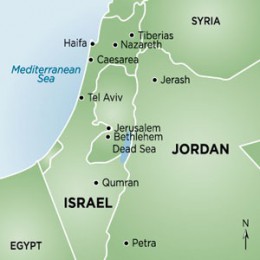 ---
BEST TIME TO TRAVEL
The best time to visit Jordan, is in the spring (March–May).
---
GOOD TO KNOW
The Dead Sea is at 408 metres below sea level.
---
SIGNATURE MOMENTS
Marveling at the spectacular entrance to Petra
Floating in the Dead Sea
Enjoying the best hummus you've ever tasted

---
BE SURE TO TRY
• Mansaf
• Falafel
• Fattet hummus
---
RECOMMENDED READING
Petra, Lost City of the Ancient World
by Christian Augé and Jean-Marie Dentzer
Live From Jordan: Letters Home From My Journey Through the Middle East by Benjamin Orbach
Our Last Best Chance: A Story of War and Peace by King Abdullah II of Jordan
---
VISAS
Canadian and US citizens must obtain a visitor visa, valid for 30 days.
Nearby Destinations