Cuba
A PATCHWORK OF DISTINCT HABITATS
The giant of the Greater Antilles, Cuba stretches for 1,200 kilometres and features the greatest variety of life in the West Indies. This stems largely from a strong commitment to conservation that sees about 20% of its land protected. Among the protected land is a patchwork of distinct habitats, including fields, mountains, forests and the massive Zapata wetlands. Here, endemic bird species such as the Zapata Wren and Zapata Sparrow co-exist with more than 3000 Cuban Crocodiles – the largest remaining population of this endangered species. Farther east you can explore the Escambray Mountains where the much sought-after Cuban Trogon and Cuban Tody – also endemics of the island – dwell in highland forests. The world's smallest bird – the Bee Hummingbird – is one of several strange and unusual species also found here. To the northwest, the World Heritage Site of Old Havana offers the best of this iconic city. With myriad natural spaces and remnants of a tumultuous colonial past, Cuba offers the quintessential Caribbean experience.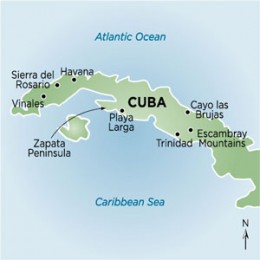 ---
BEST TIME TO TRAVEL
Visit during the dry season of November through April.
---
GOOD TO KNOW
The smallest bird in the world lives here: the Bee Hummingbird
---
SIGNATURE MOMENTS
Walking among the 'mogotes' at Viñales
Dining in private
paladars
---
LANGUAGE
Spanish is the official language of Cuba, but you'll find a lot of people also speak English.
---
RECOMMENDED READING
Natural Cuba by Alfonso Silva Lee


A Field Guide to the Birds of Cuba by Orlando Garrido and Arturo Kirkconnell
---
VISAS
Canada and
U.S. citizens need a Cuban Tourist Card, either
purchased at airport check-in or

provided on the plane.
Nearby Destinations