For a Forestry grad, Aaron Lawton (BSF '07) spends an awful lot of time where there are no trees at all. As operations director of One Ocean Expeditions for the past 10 years, Aaron runs a company specializing in tours of Antarctica, the Canadian Arctic, and Greenland. So how did he get here, and why?
"It started at Trent University in Ontario, where I was studying physical geography and was also on the varsity rowing team," Aaron says. "I loved rowing and being outdoors, and eventually my professors said they could only give me so much leeway. I dropped out and got a job running canoe trips near Sudbury."
Through a friend Aaron discovered that he could get hired on ships touring the Amazon and Antarctica. He later came back to Trent to coach rowing and met his wife, Catherine. Together they planted trees, fought forest fires, and worked in the Arctic and Antarctic.
"Then one day it wasn't enough anymore," he says. "I wanted to learn more; exercise my brain. As a tree planting crew boss I would walk the cut block with the forester, and have a lot of time to talk. I realized that forestry is a fascinating field of study."
Aaron enrolled at UBC when he was 28, with about a decade of work experience. "I felt I had more in common with my professors than with some of the students," he said. While in school he was also using his tour leader expertise working with Peregrine Adventures, led in Vancouver by Andrew Prossin.
Just before Aaron graduated in 2007, Peregrine was purchased by a larger corporation and Aaron, his wife Catherine, and Andrew were out of jobs. They decided to form a company, and One Ocean Expeditions (OOE) was born.
"At that time the forest industry was in a bit of crisis and I had few good job opportunities in forestry," he says. "I thought about it a lot, then I took the leap.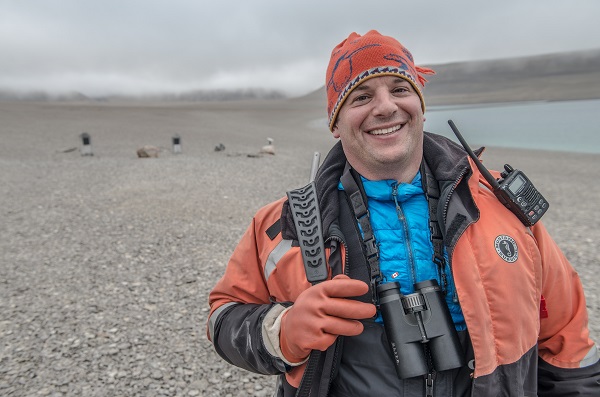 Aaron has brought many of the concepts he learned in forest resources management into the way OOE operates. "I learned from Professor Gary Bull that you can do things that are better ecologically and also better for your bottom line," he says. "I'm always looking for ways to enrich the experience we give our passengers and decrease our footprint in the areas we travel through."
Today OOE operates 3 vessels and takes passengers through the Canadian Arctic, Antarctica, Greenland, Scotland, the Faroe Islands and Iceland, among other destinations.
OOE also supports a number of scientific projects, always free of charge to the scientists. "We enlist our passengers to help in data gathering, whether it's observing and recording wildlife numbers and behaviour or noting the number and types of garbage objects. People sign up to do this willingly, even if it means a shift in the middle of the night," he says.
OOE played a significant role in the 2014 discovery of HMS Erebus, one of Sir John Franklin's 2 ships in his search for a route through the Northwest Passage in 1845. One Ocean Voyager carried Parks Canada's remote operated and autonomous underwater vehicles, which finally located Erebus on the ocean floor in Victoria Strait.
"Those were pretty exciting times. When the ship was found, it was like winning game 7 of the Stanley Cup," he says. "Now, Franklin scholars come on board our trips regularly to share what they are learning from the Erebus."
Aaron encourages forestry students to pursue their degrees, "because you will be respected around the world for it. If you are fortunate enough to find a niche that works for you, then great. But if not, this degree provides an excellent foundation. You learn how to think analytically, question your own opinions, do research and modeling," he says. "I still use the economic analysis of establishing a sawmill in a small community as the basis for building a business case or cost-benefit scenario."
One Ocean Expeditions is part of the alumni UBC Travel Club, which offers enriching and immersive travel experiences in a wide variety of locations around the world. For more information, visit www.alumni.ubc.ca/travel.
---
Aaron Lawton
has been one of our long-time polar leaders. Check out his
page
to learn more about him.
This article is courtesy of
alumni UBC
. Click
here
to learn more about
alumni UBC
Travel Club, and their upcoming tours!