We're happy to be back at this year's Festival of Birds!
This event is Canada's premier nature festival and takes place each year during the month of May at Point Pelee National Park – one of Canada's oldest national parks and a veritable 'hotspot' for birds during spring migration.
As part of our goal to increase awareness and appreciation for the natural world, Quest Nature Tours is partnering once again with the Friends of Point Pelee and Parks Canada to support the educational and fundraising efforts. Our tour leaders will be leading guided bird hikes during the first two weekends of the Festival. Participation in the walks helps to support the Friends' fundraising efforts and increases their capacity to funds interpretation and restoration projects at Point Pelee. We've heard murmurs that many of the walks that we're leading are already sold out! This is very good news for the Friends of Point Pelee and good for the continued and increased understanding and appreciation of this important wild place and bird life and nature more generally.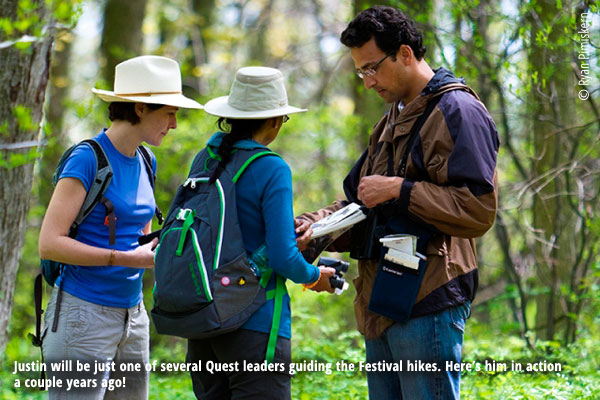 We'll also be involved in the Festival in other ways. We'll be sponsoring some presentations as part of the Festival's 'Lunch & Learn' program. These special educational sessions are offered in the Visitor Centre's theatre and are meant to enhance your appreciation of bird life:
Bird Song Basics with Justin Peter: May 8 at 11:30 am
Shorebird Identification with Jean Iron: May 7 at 12:00 pm and May 14 at 12:00 pm

Digital Cameras: Essential Birding Equipment with Tony Beck: May 8 at 12:30 pm
If you are at the Festival but miss seeing us during a walk or one of our learning sessions, please come and say hello to us at our booth by the "Birder's Roost". We'll be there from May 4 to May 14 inclusive and will be presenting some new tours and special offers. Of course, we'll be glad to hear what you've been seeing in the Park so far that day!