James Lees
Born and raised in England, James Lees has been keenly interested in nature from a very young age and has worked in the conservation field for the last 15 years. James worked at four different bird observatories that monitor bird migration and spent 11 years as a Warden at the world famous Wildfowl & Wetlands Trust reserve at Slimbridge near Gloucester in western England. Here, he maintained an 865-acre wetland for the benefit of all wetland wildlife. James also lead a variety of public walks and talks catering to a variety of interests, conducted driving safaris and photography tours and completed bird surveys.

James is a seasoned worldwide nature tour leader. Over his career he has visited 25 countries including Kenya, Kazakhstan, many different European countries, Mexico, various parts of the USA and Canada, where he moved with his Canadian wife and two children in the summer of 2016. James has been lauded for his skill in helping all trip participants benefit from their tour experience to the fullest.

Although James' special interests lay in birds and mammals, he loves all wildlife and is becoming particularly interested in insects and amphibians. When he is not away on a tour abroad he is an avid local birder and naturalist and can be found close to home in all weather conditions!
Upcoming Tours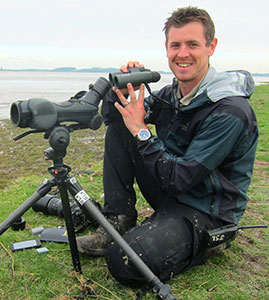 Current Projects
Learning all of Ontario's dragonflies!
Memorable Moment
Participating in a two month-long expedition to Madagascar looking for the once-thought extinct Madagascar Pochard, an endemic diving duck of that island!