Joshua Barichello
Joshua Barichello (Josh) has grown up spending his summers at Dechenla, and his enthusiasm for this place is infectious. He has an extensive knowledge of the flora and fauna, geology and history of the area. Aside from guiding guests on nature tours he has organized and hosted a bike/hike tour in the area as well as been a teacher and leader at several First Nation education programs hosted at Dechenla.

Josh spent his winters in Whitehorse and after finishing school completed a degree in cross-cultural ethno botany from the University of Fairbanks. Aside from his interest in anthropology he has a love of language and is quite fluent in both Spanish and Kaska which is the First Nation language of the traditional land stewards of Dechenla.

Josh presently lives in Ross River which is a small First Nation community between Whitehorse and Dechenla. He works for the First Nation there recording their legends and traditional knowledge while assisting them to alleviate environmental impacts in their traditional area.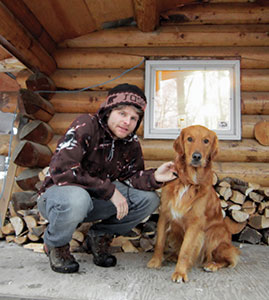 Current Projects
Coming soon.
Memorable Moment
Coming soon.