Antarctica
An experience like no other; a voyage to Antarctica is the ultimate continental reach. A continent surrounded by ocean, most of Antarctica is covered by a few thousand feet of ice. It's a place of superlatives and even these don't do it justice; the highest mountains, the coldest temperatures, the driest climate, the 'ests' never seem to finish. This is one experience we don't think you should put off. Antarctica truly gets under your skin unlike any other place on earth. It would be impossible to feel quite the same after gazing upon an unimaginable profusion of penguins tobogganing and waddling their way across the snow, watching whales crest the waves just off your Zodiac, hearing the crash of icebergs calving and passing through narrow channels guarded by mountains. Our polar programs are operated in partnership with One Ocean Expeditions on board the Akademik Ioffe, a legendary vessel and one of the finest on the polar seas. We offer a choice of departures that include passing the Antarctic Circle to far reaching expeditions to the Falklands and South Georgia. While in Antarctica we go ashore every day, weather and sea ice permitting, to get up close and personal with the White Continent.
---
Our Trips to Antarctica:
10 days
Private Journeys


19 days
Private Journeys


Consider joining like-minded travellers on a small group trip hosted by our experienced tour leaders. View all our group trips here or please call us at 1-800-387-1483 to find out more.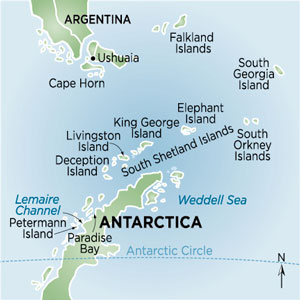 Best time to be there
From November to March, in the austral summer
Worldwide Quest Experiences
Soaking in the hot spring at Deception Island
Humpback whales bubble net feeding around your Zodiac
Camping overnight on the continent
Making the intrepid ascent at Danco Island
What we love
Experiencing the raw power of nature all around you
Bragging rights once you've survived the Drake Passage (but don't be disappointed if it's calm)
The colossal icebergs of Wilhelmina Bay
Good to know
Antarctica is the only continent with no indigenous populations
Of the 17 known species of penguins, only four breed on the Antarctic continent.
Did You Know?
Worldwide Quest has a division devoted entirely to natural history touring called Quest Nature Tours. We provide our travellers with the opportunity to experience wild spaces and learn about wildlife in its natural habitat. Our tours are all about exceptional nature experiences, education, camaraderie and fun. Our small groups of 14 - 18 participants are accompanied by knowledgeable and congenial Canadian leaders and expert local naturalists. We believe the more time we spend in the field, the better the experience. Please visit our website for our current programs.