India
India is our second home. We know it very well, we travel there often and many of our Toronto office team hail from India. We think this makes us uniquely qualified to offer the very best trips throughout the country. From the foothills of the Himalayas to the riches of Rajasthan and the lush technicolour of the south, India weaves a beguiling tapestry. Like the rich panoply of Hindu deities, there's an India for every mood and every interest. How much time do you need for a trip to India? How many lifetimes do you have? At times chaotic, always intriguing, wonderfully welcoming and all-enveloping, our India will draw you in. We'll make sure you see India the way it should be seen, and come away richer for the experience.
---
Our Trips to India:
Nov 02-16, 2013 (15 days)
Cultural Explorations


14 days
Private Journeys


14 days
Private Journeys


Oct 19 - Nov 06, 2014 (19 days)
President's Tours


13 days
Private Journeys


15 days
Private Journeys


Nov 03-18, 2013 (17 days)
President's Tours


Jan 13-27, 2014 (15 days)
The Arts


Mar 01-14, 2014 (14 days)
Alumni Expeditions

Other Trips in the Region:
11 days
Private Journeys


Feb 01-16, 2014 (14 days)
President's Tours


We custom design Private Journeys for couples, friends and families.
Take a look at where we can take you
or please call us at 1-800-387-4110 to find out how easy it is to enjoy a tailor-made travel experience.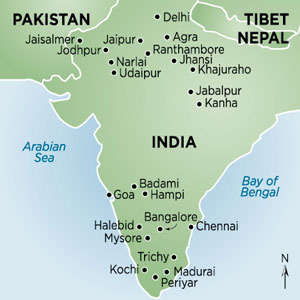 Best time to be there
October to April, when it's cooler
Worldwide Quest Experiences
Receiving blessings at Ranakpur Temple
Going to the movies in Jaipur (complete with Indian popcorn)
Celebrating Holi at a family dinner
Visiting with the maharajah in Narlai
What we love
A rickshaw ride in Old Delhi
Sharing the road with cows, camels and elephants
The kaleidoscopic panoply of Hindu deities
Good to know
Everyone speaks English
Most food isn't spicy hot
Did You Know?
Worldwide Quest has a division devoted entirely to natural history touring called Quest Nature Tours. We provide our travellers with the opportunity to experience wild spaces and learn about wildlife in its natural habitat. Our tours are all about exceptional nature experiences, education, camaraderie and fun. Our small groups of 14 - 18 participants are accompanied by knowledgeable and congenial Canadian leaders and expert local naturalists. We believe the more time we spend in the field, the better the experience. Please visit our website for our current programs.